How to explore NFT more fully and deeply? these tools you need to know.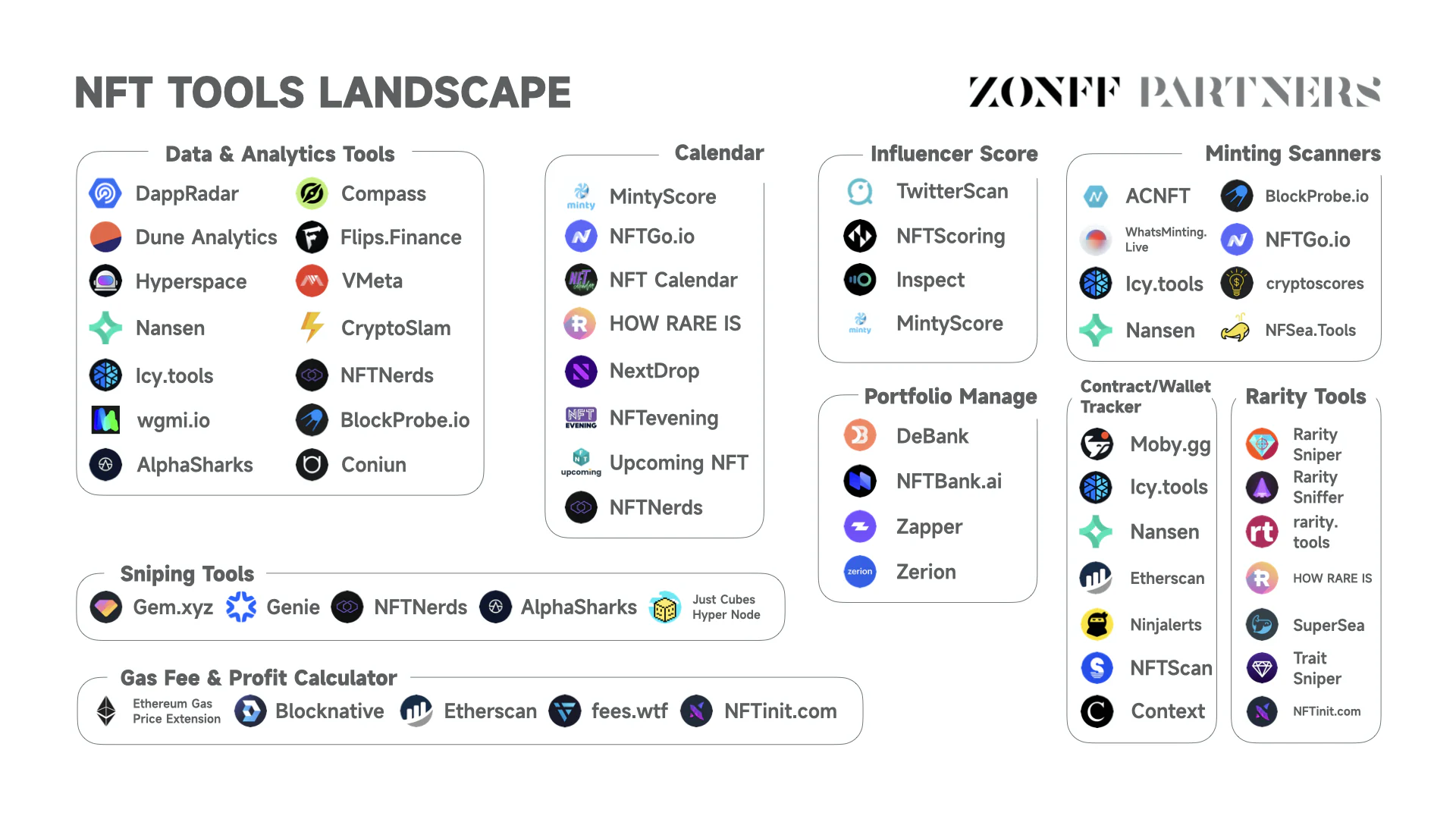 Introduction
Non-fungible tokens (NFTs) craze is far from over as more and more companies and celebrities jump into this space. Millions of art enthusiasts and people are attracted by NFTs due to several factors like the unique metadata about each asset, and information about the ownership. However, it has been hard for an NFT owner or trader to identify the legitimacy or value of digital art, music, and so on in the world of cryptocurrency and blockchain. Hence, analytical tools are needed to assist us in making more well-educated decisions within this space. In this article, we'll delve into the NFT tools or platforms, excluding the trading platforms, during the process of choosing the NFTs.
Overview – 9 different categories of tools
We will cover 9 different categories of tools:
Data & Analytics Tools
Drops and Events Calendars
Influencer Scoring
Minting Scanners
Address Tracker
Rarity Tools
Sniping Tools
Gas Fee & Profit Calculator
Portfolio Management
Within these categories, we will map a multitude of tools that NFT traders use to discover NFT projects, do better research on the NFT collections or the overall market, and stay ahead in the investment game.
Data & Analytics Tools:
DappRadar
Price: Free / Paid for further function
DappRadar provides data on NFTs that live on different blockchains including Ethereum, Solana, WAX, BSC, Polygon, Ronin, Flow, TRON, Tezos, Avalanche, Waves, Moonriver, and Moonbeam. There are leaderboards of top collections, top sales, marketplaces ranking, and fractional NFTs. You can discover the hottest NFT collection sorted by the volume(USD), the number of traders, and the number of sales.
Dune Analytics
Price: Free
Dune Analytics provides blockchain ecosystem analytics by and for the community. With Dune Analytics anyone can explore and share data from Ethereum, xDai, Polygon, Optimism, BSC, and Solana. Users can check out the NFT market analytics created by the others for free.
HyperSpace(SOL)
Price: Free
HyperSpace is an NFT collection ranking and analytics platform based on the Solana blockchain. Users can see the Market Cap and 7 Day volume of the Solana NFT market. The ranking chart of the NFT collections can be sorted by floor price, average price, volume, and the number of listed items.
Nansen
Price: $149/Monthly
The Nansen analytics platform analyses millions of data points on Ethereum wallets, transactions, and smart contracts. Market overview and trends can be seen on the platform. Nansen also provides the leaderboards of NFT 500, Bluechip 10, Social 100, Game 50, Art 20, and Metaverse 20.
Icy Tools
Price: Free / Premium
Users can discover trending NFT collections by sales on Icy Tools. The most attractive feature of it is that the price is updated in real-time.
Compass
https://compass.art/collections/trending
Price: Free / Paid for real-time data
With Compass. art you can spot worthwhile collections before they go mainstream and their price explodes. By tracking factors such as volume, sales, average price, floor, and highest sale, Compass. art can show you which NFT projects are starting to trend. It also has a volume graph on the leaderboard for users to pick their NFTs easily.
Flips Finance
Price: Free
Flips Finance allows users to discover 24-Hour Market Pulse, which is sorted by top 24-hour delistings, floor increases, and volume increases, and top NFT Collections ranked by volume, floor price, number listed for sale, and holder to supply ratio.
Vmeta
Price: lifetime membership
VMeta is a one-stop NFT analytics and intel toolkit built for traders. Realtime pricing is one of the most powerful features of VMeta. Not only you can predict trends quickly but also snipe quickly. It also has a "Hot Collection" list for users to keep track of the sales and volumes of most of the NFT projects globally as quickly as 1 min. The languages that VMeta support are Chinese and English.
CryptoSlam
Price: Free
With CryptoSlam, you can check out the NFT collection rankings by sales volume on different blockchains and top NFT collectible sales. However, this website lacks real-time data.
WGMI
Price: Free
WGMI.IO is a free NFT project price tracker tool. It shows the project's floor price in 3 days (3D floor), 7D floor, 10D floor, and 1D floor as well as the change ratio, then it goes to the volumes.
NFT Nerds
Price: 1 month for 0.15 ETH or 6 months for 0.5 ETH
NFT Nerds is an alternative to Alphasharks (https://www.alphasharks.io/app) , Vmeta(https://www.vmeta.ai/), and Blockprobe (https://blockprobe.io). It provides the number of listings and sales in real-time. The most useful features that most users found are the Listings Chart and Momentum Chart (supply/demand difference) which both can help to spot the sell walls and calculate the entry point and exit price.
Coniun
Price: Free
Besides the ranking sorted by volume, Coniun also offers the Next Blue Chip Probabilities which is the percentage of owners of an NFT collection with at least one BlueChip NFT.
Drops and Events Calendar
Minty Score
Price: Free
Minty Score is a website that lists upcoming and launched projects but quantifies social presence to rank them. Users can also find the information on how to get the mint list of each project.
NFTGO
Price: Free
Users can see the mint calendar of the upcoming NFT drops easily with NFTGO. The mint price, total supply, official links, and the mint date are provided for each NFT collection on the website. One special feature is that it provides a countdown timer to the mint date of each project for users to never miss out on the drops.
NFT Calendar
Price: Free
NFTCalendar is the release and event calendar for the growing Non-Fungible Token industry. You can easily discover today's drops, ongoing drops, recently added projects, and the upcoming NFT collections on the website.
HowRare Is (SOL)
Price: Free
HowRare Is compiled a list of upcoming Solana NFT drops so that you would not need to visit different pages regularly to see up-to-date information. You can check the official links, mint date, mint price, and the total supply of each collection.
Nextdrop
Price: Free
Nextdrop provides the basic information of the upcoming NFT drops based on the Ethereum and Solana blockchain.
NFTevening
Price: Free
The calendar of the upcoming NFT drops and events is provided on NFTevening. The NFT projects are based on 14 different blockchains.
upcomingnft
Price: Free
With Upcomingnft, users can learn about the upcoming NFT events on different blockchains.
NFT Nerds
Price: 1 month for 0.15 ETH or 6 months for 0.5 ETH
One of the most special features of NFT Nerds is that provides the reveal calendar. And the reveal time is auto-adjusted to your timezone. It's pretty convenient for users to snipe some NFTs at a good rank right after the reveal.
Influencer Score
TwitterScan
https://twitterscan.com/view/new_nft_project
Price: Free
With Twitterscan, users could easily spot new NFT projects on Twitter and track the community sentiment by the data of followers and whale followers to identify a trading opportunity. It also has scam projects and Twitter account impersonate alerts.
NFT Scoring
https://nftscoring.com/upcoming
Price: Free / 0.05 ETH per month
NFT Scoring is an artificial intelligence tool that analyzes and ranks NFT collections based on their community engagement and more. It provides the information of Twitter followers, Discord followers, community score, mint price, and the upvotes number of all the upcoming drops. You can find some curated picks by the platform, the most trending project on social media, and the most upvoted project.
Minty Score
https://mintyscore.com/rankings/projects
Price: Free
What Minty Score do is that they take the Discord growth, Twitter growth, and engagement of Twitter and then pump out a score to help users filter out the project and what projects might be good to look out for.
NFTinspect
Price: Free
NFTinspect is a ranking platform of NFT collections across Ethereum and Solana based on strength of the community as measured by social signals. Unlike the others mentioned above, NFTinspect calculates the number of Twitter PFPs of each collection and Twitter Profile Global Reach. Global Reach represents how popular a Twitter profile is relative to other profiles that are using an NFT as their PFP and is determined by what Inspect users view most. It is calculated over a 7-day rolling window.
Minting Scanners
Acnft
Price: Free
Acnft is a comprehensive platform that allows you to discover what's minting now and the times of being minted in the last 10 minutes.
Whatsminting Live
Price: Free
Whatsminting Live can let you keep track of the most popular mints based on the Ethereum blockchain. There are minting rankings of NFTs in 1 minute, 5 minutes, 15 minutes, 30 minutes, 1 hour, and 6 hours. It also has transactions and gas price graphs which could help you see the popularity of each collection directly.
Icy Tools
Price: Free / Premium
With Icy Tools, you can monitor real-time NFT mints down to the minute. The detailed data includes the mints, the number of pending transactions, the total minted numbers, the percentage of increasing or decreasing, and the unique minters in different durations.
Nansen
Price: $149/Monthly
Nansen's Mint Master provides four aspects of minting data. First of all, the latest mints represent the latest projects sorted by FOMO (Fear of Missing Out). The FOMO-level based on the amount of minters in the last 15 minutes (5-20 = low, 20-75 = medium, 75-200 = high, 200+ = extreme). Secondly, there is a minting volume chart for projects that started minting in the last 24 hours. Additionally, smart minters represent what smart money is minting now in the last 24 hours. Lastly, the minting leaderboard shows the top profits made by minting and selling in the last 60 days.
Blockprobe
Price: Free / Blockprobe founder pass owner
There is a leaderboard of top minted projects in different durations on this website. The table of rankings includes the mints, the unique minters, and the minting price of each collection. The data in 5 minutes and 15 minutes are only available for their founder pass owner.
NFT GO
https://nftgo.io/analytics/top-mint
Price: Free
With NFT GO's Top Mint, you can explore top collections most addresses minted over the selected time range. The chart of the top mints can be sorted by the number of mint activities, the sum of mint volume, the number of unique minters, the number of the whale who minted the NFT, the sum of gas fee of all mints, the first mint date, and the FOMO level which based on the number of mint activities of the collection within the latest 15 minutes (0 None, 1-50 Low, 51-100 Medium, 100+ High).
Cryptoscores
https://www.cryptoscores.io/livemint
Price: Free / Paid for real-time data
There is a mint list on Cryptoscores which can be sorted by the mint price, the average number of NFTs minted per each transaction, the number of whales minting this NFT, the total number of NFTs minted by whales, the unique wallet that minted an NFT, the sum of minted volume and total NFTs minted in selected time range including 1 minute, 5 minutes, 30 minutes, 1 hour, 3 hours, 12 hours, 1 day and 3 days.
Nfsea tools
Price: Free / 6 months subscription for 0.1 ETH
Similar to Blockprobe, NFSea provides information on the amount of minted and the number of unique minters in different duration. Users can easily add the collection to the watchlist.
Contract/Wallet Tracker
Moby GG
Price: 0.1 Eth for 6 months
If you're the traders who would like to track where the smart money going, Moby might be a good choice. You can track all the activity logs of not only the whales but also your followed wallets in real-time.
Icy Tools
Price: Premium
Users can view a wallet's activity including minting or buying in real-time with Icy Premium.
Nansen
Price: Standard plan 399$ quarterly
Nansen has a "Smart Money" function that can check what "smart money" holding and where they are moving capital. It also has a wallet profiler that can input any address to see who or what it is, along with information on balances, wallet activity, and address that the wallet interacts with.
EtherScan
Price: Free
EtherScan is one of the most well-known platforms where you can access details on any Ethereum blockchain transactions that are pending or confirmed. Users can observe live transactions taking place on the Ethereum blockchain, look up a single transaction made from any Ethereum wallet, and keep track of how many smart contracts a user has authorized with their wallet.
Ninjalerts
Price: Free for 1 address / Paid for more addresses tracking
Ninjalerts is a mobile application that gives you custom NFT alerts and pushes notifications of all the activities from any contract or wallet address.
NFT scan
Price: Free
Users can search any contracts or wallet addresses to see their activity.
Context
https://context.app/lists/collectors
All activity logs of punk holders and famous NFT collectors can be seen in Context.
Rarity Tools
Rarity Sniper
Price: Free
Rarity Sniper provides over 1400 verified NFT collection rankings on 17 blockchains including Ethereum and Solana.
Rarity Sniffer
Price: Free / 1.5ETH
Raritysniffer provides the latest rankings of new NFT projects based on their rarity. The platform only offers information about the latest collections of NFTs and sniffed projects are displayed for free to users. To get more analysis of potentially rare NFTs, users are also required to join the Discord channel for a subscription. This gives exclusive access to the rarity status of new NFTs that have been sniffed before public release. The subscription fee is 1.5ETH.
Rarity Tools
Price: Free
Users could look up the rankings of NFT items by entering the collection names and ID. It also has filters of rarity range and traits to help users find their best NFTs. One special feature on Rarity. Tools are that new projects can be listed with a few easy steps at the price of 2ETH.
HowRare Is
Price: Free
Users can find out the rarity of the Solana NFT, and view market stats and analytics on HowRare.is.
SuperSea
https://nonfungible.tools/supersea
Price: Free/subscription/membership
Members get access to our color-graded rarity ranks that display inline with every item. There is no need to have multiple tabs open and cross-reference with other ranking websites.
Trait Sniper
Price: Free/Subscription
Trait Sniper has a website and a downloadable Chrome extension like Supersea, which might be immensely helpful while traders browse OpenSea. It shows the current floor price and also the rank of an item. It is one of the fastest in getting new collections online. Many traders use it to snipe NFT at a good rank after the reveal.
Nftini
Price: Free/Subscription
Like Trait Sniper, Nftinit has a plugin besides a website. Users can view the floor price and the rank during viewing on OpenSea. But it seems its ranking evaluation mechanism is a bit different from Trait Sniper.
Sniping Tools
Gem
Price: Free
Gem is an NFT trading platform aggregator that allows users to view items of one collection listed on Opensea, LooksRare, and more at the same time. People could easily "sweep the floor" and list multiple items in one transaction which help save gas fee. It refreshes its metadata in less than a minute that allows you to see items listed on all platforms at once and snipe NFTs with ease.
Genie
Price: Free
Similar to Gem, Genie is also an NFT marketplace aggregator. You can batch buy NFTs across all major marketplaces in a single transaction to save up to 40% on the gas fee.
NFT Nerds
Price: 1 month for 0.15 ETH or 6 months for 0.5 ETH
NFT Nerds is one of the most popular sniping tools for NFT traders. People could find the real-time listings of each NFT collection and make a quick buy. The most special feature is that NFT Nerds allows you to see the transactions pending against you when buying an NFT.
Alphasharks
https://www.alphasharks.io/app
Price: Lifetime NFT pass
Alpha Sharks is another popular alternative to NFT Nerds.
Just Cubes Hyper Node
Price: NFT price
JustCubes NFT owners will get a Just Cubes hyper node that allows you to transact much faster than anyone around you while minting or sniping NFTs, submitting transactions to purchase off of OpenSea, or any type of transaction you want to submit on the ETH blockchain.
Gas fee & Profitability calculator
Derisk
Price: Free
Derisk is one of the most popular profitability calculators for NFT traders. They can input a transaction hash/id to view the transaction details and derisk the amount and also enter the selling price to calculate the profit.
Ethereum Gas Price Extention
Price: Free
Ethereum Gas Price is a free-to-use Google Chrome extension that allows people to see the gas price on Ethereum in real-time.
Blocknative
https://www.blocknative.com/gas-estimator
Price: Free / Paid for further function
Blocknative is a provider of quick and accurate gas estimation. You can even get real-time alerts on Ethereum by installing a browser extension.
EtherScan
Price: Free
With the Etherscan gas tracker, users can calculate the real-time Ethereum gas fees.
Fees.wtf
Price: Free
Users can see their total spending on gas, the most expensive gas they used, and the total cost of their failed transactions on this website.
NFTinit
https://nftinit.com/nft-profit-calculator
Price: Free
This platform provides a live gas tracker and a profitability calculator. Unlike derisk tool, the user should enter all the data including buy price, sell price, collection royalty, opensea service fee, buy gas fee, and list gas fee to get the final profit/loss of the trading.
Portfolio Management
Debank
Price: Free
Debank is a DeFi portfolio tracker that supports the largest number of DeFi protocols across 27 chains. It allows you to track the total amount and value of your cryptocurrencies across all wallets, exchanges, and more. DeBank's NFT section provides basic information such as the name of the specific NFT and its floor price. It also provides historical summaries and follows others' wallet functions.
NFTbank
Price: Free
NFTBank is a portfolio tracker that is specifically designed to help users manage their NFT holdings. Users can view their total revenue, total spending, return on investment, and current inventory value of the assets held. There are many other functions like tracking the performance of each asset, accessing an activity log for all interactions with different collections, and downloading tax filing documents.
Zapper
Price: Free
Similar to Debank, users can see the total amount and value of their assets, and trading history after connecting their wallets to the website.
Zerion
Price: Free
With Zerion, users can monitor their cryptocurrencies and NFT portfolio across multiple blockchain technologies – all in one place. There is also a contract execution history for users to check out. One special feature of Zerion is that there is a price-performance chart of Ethereum.
Conclusion
This mapping may not include all the tools or platforms for NFT traders to use and all the functions that one specific platform provides. We believe that there are more NFT tools shortly as more and more people have been considering getting into the NFT game.
Disclaimer: As a blockchain information platform, the articles published on this site represent the personal views of the authors and guests, and have nothing to do with Web3Caff's position. The content of this article is for information sharing only, and does not constitute any investment advice or offer, and please comply with the relevant laws and regulations of your country or region.